Helllooooo –
To all of you who showed up (like all 3 of you) YAY! We had so much fun. Minus the people who physically couldn't be there… Like you're in a different City…(it's fine) Just kidding I hold zero anger. I get it, life happens, plans change, you read the trashy book selection and realized you would rather shoot yourself in the face then have to discuss sex scenes… it happens.
Am I the only one, who saw Book Club with wine and snacks and immediately felt like Jennifer Lawrence from the Hunger Games: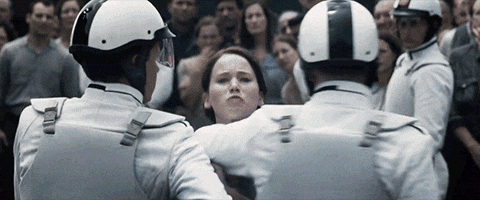 Recap for those of you who couldn't join us: We were given a poll to select 4 different books: Apparently Young Adult (Rebel of the Sands) was placed in the do-not-touch-category. Again, it's fine.
We got together to discuss the book, and what exactly we thought if it. This being the first book club that I am actually posting on my blog, I have learned two things. 1.) I need to get my shit together while discussing the book. Like I need to come up with an agenda or something. Something to keep people on track so it is not a cluster fuck of opinions. Do not mishear me, I love opinions. I just firmly believe I need structure in my life. 2.) I need to take better notes. OR take notes mostly sober… My notes consisted of the following:
Hard line (I feel like this involves a facial expression)
Very Cliche
Couldn't put down (must have been Deena)
I also had random words such as Kit, Italy and Shameless. I am pretty sure those are either a to-do list or goals and aspirations but I can't remember now that I look at it. In a consensus- based on the individuals that showed up – It was determined 3/5 people would not recommend this book. AKA it was good, but it was nothing to write home about.  The sexy scenes were there, there was heartfelt emotion, but there was something missing. I personally hated the female role. She was a jealous twat.
It was a sweet romance, but it was a romance that seems to have the same story line as all the other sweet romance novels. Hot guy, single girl. Single girl has emotional baggage, hot guy tries to save her soul. Blah Blah Blah
We also got to enjoy some wine our good friend Renaye brought back from her trip to Italy this summer. Prosecco is where it is at. I am telling you – it was light airy and crisp. And now that I think of it, we should have drank it before the XL $14 dollar (yes I am classy AF) bottle of Pinot Grigio. Maybe then I would have remember exactly how good it was, other that saying generic words like "crisp" and "airy".
We also pulled four books for our next book club. Don't worry these book are mostly clean and educational (gag). There is one book I tossed in there to see how you really feel, I will be posting that page with in the next few days so stay tuned!
Again THANK YOU to everyone who was able to make it, and to those who read the book! We kinda need human bodies to make the 'book club' be an actual club, and not just a bunch of depressed moms looking for an excuse to drink wine an get out of the house. Mwah!